Her Debut:
Marsha has penetrated the entertainment circles since 1985, when she was persuaded by her aunt (Ms. Sasie Vadhanapanich) who was managing one of a well known advertising companies in Thailand of the decade.
There were not many Eurasians in Thailand in those days, hence her aunt introduced Marsha to become an advertising model for the lollipop 'Hall' pairing with Billy Ogan (they were both in a school uniforms during the casting). However, entertainment circles were not particularly appealing to Marsha at the time.
On the casting day for Hall, Marsha attracted the eyes of many seniors in the fashion circles who invited her to pose for the magazine cover 'Praew' and many others like 'Dichan'.
Movie Debut:
In 1986 Marsha was approached by a movie company, the Colisium Group of Mr. Khom Akradej, who proposed her a casting role as an aggressor which she took it as a challenge.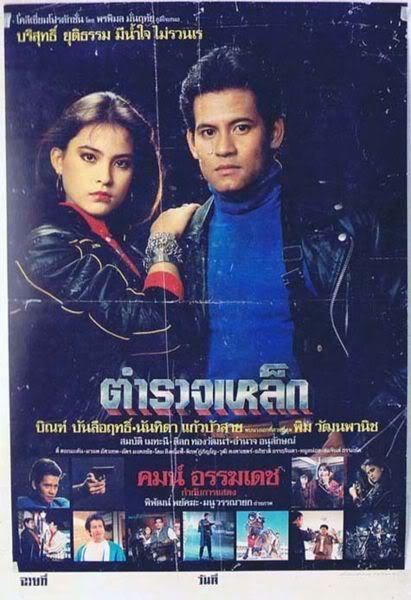 Marsha had to learn the arts of a screen aggression and her first acting work was the movie, 'Iron Cop' and within 3 years Marsha had 14 castings, as there were not that many actresses at the time, especially an "Eurasian Star". As a consequence, Marsha 's work had subsequently increased in the movies, 'Blazing Sun', 'Love Pursuit' , 'Evil Child', 'Jumble Love', 'Golden Sky', 'Come On Love', 'Wanalee', 'Frolicking & Rugged Youth', 'Evolving Wedding', 'Fishing Auntie & Grandpa', 'Pink Executioner', 'Mah'.
Marsha gained her popularity when she was a movie actress in, 'Becoming Pubescent' by Mr. Chana Kraprayoon. Marsha's last movie in her first life span was 'Jongrak' in 1987 in which she won the nomination for the Golden Doll Award, in Musical and Drama Circles.
Into Musical & Drama Circles:
Marsha sang several songs in the movie 'Jongrak' and her talent had attracted Ms. Lek Bussaba Daoreung and Mr. Paiboon who persuaded her into the musical circles.
During this period, Marsha had just given birth to her son, 'Guy' and she did not wish to work but to look after her son. When Guy turned 3 years old, Marsha felt it was her obligation to earn a living for the family.
At the time, the trend of a movie production was concentrated on the "teenage merriment theme" which was not favored by Marsha who preferred to be a singer as she believed it was challenging.
Eventually, Marsha had her first solo song albums 'Wishing to a Star' which went on sale in September 1991, relatively the same time as other singers such as Christina Aguilera, Jetrin Wattanasin, Mai Jaroenpura, Saowaluck Leelabutr, Nuvo, Saranya, Maleewal. Marsha 's music video 'Wishing to a Star' was a top hit and was broadcasted in the radio programs for as long as 14 months.
Marsha had her own first solo concert 'Marsha Show' at the MBK Hall on 16th November 1991.
The theatre group contacted Marsha after her first song album. As Marsha's passion was still focused on acting and the theatre play at the time had two diverse roles. Marsha had a drama experience in the play 'Becoming Pubescent' (as there were both the screen and play versions and Marsha was a leading actress in both. The play version was produced when she was casting in the movie 'Jongrak'), Marsha was cast in the plays 'Live for Love', 'Luminous Fire' and 'Swirling Lake' in 1992 in which she won the nomination for the Golden Television Award from the 'Luminous Fire'.
Wishing to a StarIn 1993 Marsha returned to perform her second song album 'Taste of Being Human' and to perform in another solo concert 'Marsha Taste'. In the same year, Marsha participated in the special dual album 'Naughty Folks in Music– Once in Ten Year Fair which Marsha sang 'Not At All' composed by Nuvo. The sales of both albums, 'Wishing to a Star' and 'Taste of Being Human' were over one million cassettes which was considered extremely successful.
Marsha returned to the theatre play again in 1993 in the 'Sparkling Moon' prior to the song album 'Feather and Flowers' with the famous singer, Bird Thongchai and her rock album, 'Zone'. In 1994 Marsha had her third album 'Room Number 3' and she also composed the first song ever in her life, 'Release'.
In 1995, Marsha returned to the theatre play again in the 'Unlimited Surnames' produced by The Exact. This play was very popular because Marsha had to act in five roles altogether. The song 'Just Someone' became a hit theatrical song until a new special album 'Re-Entry' was released which was a collection of the old songs almost in the entire album and with the addition of two new songs 'Just Someone' and 'Never Mind …Sweet One'
In 1999, Marsha had an opportunity to participate in a special album again, that was 'Rock for Life 1-2' which she sang the songs 'Lonesome', 'Lonesome Smile', 'Beautiful Blue' and 'Stars, Apple of My Eyes, Sweetheart'.
Marsha had her fifth solo album 'Maya' and also presented her talent in song composition 'Broken Soul' and 'Time for Two' which are popular until the present.
Swan Over DragonMarsha acted in the theatre play 'Swan Over Dragon' in 2000 which she was cast as 'Ar Liew' a mafia daughter and she sang the song 'No One Left'. Even today, this play is considered one of her triumphant successes as the play won seven Golden Television Award and one of the awards was for the leading actress, Marsha Vadhanapanich and was the third award for her acting ability.
At the end of the year 2000, Marsha had participated in a special song album which proved to be very popular and talked about until the present, 'Seven' a collection of the seven Grammy Grand, Am Sawaluck, Mai Jaroenpura, Marsha Vadhanapanich, Nat Meria, Nicole Terio, Tong Pakramai and Ou Haruetai.
Another popular theatre play for her was the 'Professional Bride' produced by Polyplus in 2001 and the songs, was included in the 'Fine Days' album. One of the songs is 'Song from the One Afar', today still one of the most favorite in her singing career. The concert 'One Fine Day with Marsha' was another concert held on 4 August 2001 made a great impression on all its audiences.
In 2002 Marsha accepted to appear in two theatre plays 'Bed Trap' by Pao Jinjong and 'Breezing Wind and Star Light' by The Exact. Marsha had sung a special song for Mr. Sumate and the Pung 'Oh My Mind'.
In the middle of the year 2002, Marsha participated in the singing of 'Dream Saler', in protest of a copyright violation and free concert at the Royal Plaza. In 2003, Marsha had surprised her song fans again with the release of her new seventh album, 'The River of Life'.
Then Marsha accepted to appear in a theatre play 'Sky Searching for You' by Polyplus and also sung in the radio in 2004. She also sang special casting song 'Mourning for Love' for the movie 'The Guy Named Ai Fak' and had her second music video, the song 'Sacred Talk' by Birdsake (Her first music video concert, the song 'Our Promise' by Assanee Wasan many years ago).
On 4 September 2004, it was Marsha's first full platform concert at the Impact Arena, Muangthongthani which featured a collection of all her songs since she began her musical career, 'Marsha My Reflection'. After this concert, Marsha organized a concert for charity 'Marsha My Gallery'on Khao Sarn Road. In 2005, Marsha participated in a special album, 'Sleepless Society' by a new generation composer, Narongwit Taechathanawat and sung the song 'No Sleep No Rest' and took a break to act in the play 'I love the Lady Named Jay Dun' by Polyplus.
At the end of 2005, Marsha released her eight single album 'Marsha In Love' and had Nueng Narongwit from the Sleepless Society as the producer. The album was a great success and the first within the last few years that Marsha had her new short hairstyle.
Alone In 2006, Marsha accepted to be an actress in the movie 'Alone' of the GTS Group and once more she returned to the movie circles after drifting away for 20 years. Marsha released her ninth song album, 'Marsha Selection', the revision of songs in the past which are rare and she participated in the special album, 'Deep Blue' composed by the famous Pi Nim Si Fa. Marsha sang the song, 'Fire Dancing Insect'.
In 2007, the movie 'Alone' was shown and was very popular, taking in over 80 million Baht. The movie has also been shown in many countries such as Indonesia, Malaysia, Singapore, Korea, Hong Kong, USA. Marsha swept nine awards from the nominations of international leading actresses. She had also won the Golden Royal Barge Award which even today, is considered the greatest success on the route of her stardom.
In 2008, Marsha participated in singing the song, 'Better Tomorrow' in the campaign for peace in the southern provinces of Thailand. At the end of the same year Marsha had her 25th year anniversary concert produced by Mr. Nittiphong Hornark and released her tenth album, 'Let's Have Fun tonight' in which she had devoted her heart and mind as a producer herself for the entire album, investing in the costumes over 600,000 Baht and supervising the quality control herself.
It is shown that as a "super star darling" of all people in the country, Marsha's road of success has not been a "rose carpet".
If Marsha has been walking on the "rose carpet" through to the present it is due to her amazing talent and efforts, heart and mind as she believes in the motto, 'Devote your mind to everything you do'. Therefore, we are not surprised why she said 'Sha still believes the value of a person is truly based on the results of one's work' as during all those years in the past Marsha had proven to us that 'she is truly a person who is a real worker'.
Copyright©inlovemarsha.com, 2007. All rights reserved. Without limiting the rights under copyright reserved above, no part of this publication may be reproduced, stored in or introduced into a retrieval system, or transmitted, in any form, or by any means (electronic, mechanical, photocopying, recording or otherwide), without the prior written permission of both the copyright owner and the above publisher of this article.

บทความนี้สงวนลิขสิทธิ์ตามพระราชบัญญัติโดย inlovemarsha.com ห้ามมิให้ทำการเผยแพร่ หรือกระทำซ้ำ แก้ไข ดัดแปลง หรือวิธีใดก็ตาม โดยมิได้รับอนุญาต การเผยแพร่ในเว็บ inlovemarsha.com ได้รับอนุญาตจากผู้เขียนแล้ว